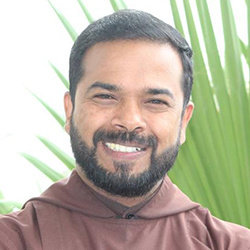 Dear brothers and sisters in Christ,
Peace be with you!
Everyone knows that Bahrain Malayalee Catholic Community (BMCC)is a beehive of numerous activities facilitating distinctively catholic beliefs and practices with the motto" towards a better self and a spiritually enlightened community". With the blessings of H. E Bishop CamilloBallin, the benevolence of the rulers of the Kingdom of Bahrain and the unstinting support of the parish priest , priests ,reverend sisters and laity, we are able to mouldpeople with charisma and communities in rich Christian values.
It is said every blessing is an entry into the world of the Kingdom of God. The launch of the website for BMCC is a great blessing. Our community excels in communicative potential with trained church leaders who can attempt great things for God and announce the message of salvation. I thank the Lord, for I see the spirit of Jesus encouraging , equipping and empowering spiritual leaders who uses scripture and the experience of the Holy Eucharist to share the incredible love of Christ with various communities .
This website is a Trail Blazer! With the phenomenal growth of media industry in the past few decades , it is easier for us to energize our service and mission,through its various pages, with 'pastoral prudence'. Besides supporting the parish in general we have ministries related to the following: Altar servers, Choir , Nurses, teachers, jesus Youth, Hospital visits ,Teens for Christ, Charismatic Prayer group , Training ministry, religious Ministry, Intercessory prayer groups , Eucharistic service group and 44 prayer cells in different parts of Bahrain. Let the high lights , messages in this website bring glory to His name. As St Augustine says 'Let us pray as though everything depended on God; work as though everything depended on us'.
Jesus said to them, "Go into all the world and preach the gospel to all creation" (Mk16:15). This endeavor of the media is a precious aid to spread the gospel, love and joy of Christ. As St john Paul observes ,our endeavor through the Media shall comprise a central part of that great modern ' Areopagus" where formation and participation shall be carried out using positive principles being led by the Holy Spirit.
Let us give ear to His voice.
Yours in Jesus
Fr. Francis Joseph OFM Cap